George French Angas (G.F.A.) was an English naturalist, painter, author and poet who travelled to many countries, studying its landscapes and local people. He is a notable part of South Australian history, being the son of George Fife Angas (one of South Australia's principal founders) and one of the first to document South Australian scenery through illustrations. Publishing his first book at the age of 21, he has quite a list of published works, several of which depict Australia and Polynesia.
George Fife Angas
George French Angas was born on the 25th of April, 1822 in England. He was the first of four sons born to Rosetta French and George Fife Angas (another notable figure in South Australian History). While in England, Angas' father worked as a merchant/banker and also owned a variety of businesses, including a coachbuilding business he inherited from his father and a shipping firm. As largest landowner in South Australia in the 1940s, he became a prominent figure in establishing the South Australian Colony. George Fife was a member of multiple organisations including the South Australian Colonization Commission and the South Australian Legislative Council. He was also one of the founders of The South Australian Company, whose goal was to encourage others to purchase South Australian land after the South Australian Colonisation Act was passed in 1834. It even went on to help establish the Bank of South Australia!
George Fife's heavy involvement in South Australia's colonisation later inspired George French to emigrate there. In 1848, George Fife would do the same.
First Book
From a young age, Angas developed a talent for drawing and an interest in natural history. Despite this, after graduating from grammar school, he was made to work in his father's counting house in London. He stayed there for a year until he decided to study under Benjamin Waterhouse Hawkins, a natural history artist. During his studies, Angas became quite skilled in anatomical drawing, and lithography.
At the age of 19, Angas decided to travel the Mediterranean from August to November of 1841. Throughout the trip, he did a lot of illustrations, and with his new talent in lithography, he published these works in a book titled ""Rambles in Malta and Sicily in the Autumn of 1841″, released in 1842.
Travels in the Southern Hemisphere
Arrival in Australia
Two years after releasing his first book, Angas headed for Australia on the 'Augustus', arriving in Adelaide in January of 1844. As soon as he arrived, Angas went with William Giles to the mouth of the River Murray. Afterwards, he travelled with Governor (Sir) George Grey south-east and to Kangaroo Island and Port Lincoln. After six months in SA, he made a sudden decision to head to New Zealand.
Trip to New Zealand
In July 1844, aboard a South Australian Company schooner, Angas headed for New Plymouth, New Zealand.  The ship was forced by gale winds to dock at Port Nicholson (now known as Wellington Harbour) instead. From the port, he travelled the areas around Wellington, and then sailed across to the South Island where he explored Cloud Bay and and Te Awaiti. He returned to the North Island by sailing up the eastern coast for eight days until he reached Auckland. He then headed for Waikato, Lake Taupō and the nearby volcanic plateaus before returning to Auckland by land and sailing back to Sydney aboard the Coolangatta at the end of 1844. He took with him a young, orphaned Māori named Hēmi "James" Pōmara.
Throughout his travels, he painted many portraits, studies of land, dwellings and weapons. Those whose portraits he painted were often prominent Māori. Many of these illustrations went towards one of his later books, 'Savage life and scenes in Australia and New Zealand'. These recordings later became useful as a record of an important transitional phase of Māori culture.
Sketches and Exhibitions
Angas arrived back in South Australia a year after his first trip,
Whenever Angas visited South Australia, he made water colour drawings of the newly established colony, landscapes, flora and fauna, and he did so very carefully. He tried to get the illustrations to look as accurate as possible. The locations that he depicted include the Riverland, the Barossa Valley, the Fleurieu Peninsula and the south-east. He went on to show these works along with those he made in New Zealand, in Adelaide's Legislative Council Chamber, in part to solicit subscriptions for his upcoming folio publications which would be released in 1847. He returned once the folios had been published, to hold more exhibitions as advertising.
Six months into his second trip to SA, Angas headed off to tour New South Wales, arriving in July 1845. As he did in Adelaide, he again held painting exhibitions as promotion for his folios.
Back to England
In September 1845, Angas headed back to his homeland via the 'Cape Horn. The ship got delayed in Rio de Janeiro, so he took this as an opportunity to create more illustrative works. He intended these to published as a book titled, 'The Scenery of Rio Janeiro', but it never came to fruition.
Finally, in February of 1846, the Cape Horn reached Gravesend, England, accompanied by Hemi Pomara. While in England, Angas held another successful exhibiton at the Egyptian Hall in London.
All of Angas' accomplishments (including the creation of 300 finished, finely drawn watercolour works) up to this point, had happened before reaching the age of 28 – quite a feat!
Most Popular Books
From 1847 to 1849, Angas published five books, some of them his best work. Those published in 1847, include two large hand-coloured folios ('South Australia Illustrated' and 'The New Zealanders Illustrated') and a two-volume book ('Savage Life and Scenes in Australia and New Zealand') filled with Angas's drawings as uncoloured lithographs.
A year later, Angas spent two years travelling around South Africa including Natal and the Cape where he created the illustrations for his next book. Titled, 'The Kafirs Illustrated', it was the third of Angas' hand-coloured lithographs. It begins with an autobiographical introduction and includes views of Cape Town, Durban, Wynberg, Genadendal, Paarl and Somerset West. Of course, with Angas' fascination with indigenous cultures, it also included lithographs of local ethnic groups such as the Khoikhoi, Cape Malays and Zulus.
'Description of the Barossa Range' was published in London in 1849 and it featured six hand-coloured lithographed plates created by Angas. The text is credited to "Agricola", who is assumed to be his younger brother, John Howard Angas.
Art historian, Bernard Smith wrote about Angas' work, saying they are "ethnographical documents of considerable value"
"The landscapes were used to illustrate the nature of the country awaiting settlement in the new colonies and so to promote migration. Finally Angas, trained under a natural-history painter himself, included many drawings, in his exhibitions and books, of value mainly to the natural historian"
South Australia Illustrated
South Australia Illustrated is one of Angas' most famous works, featuring 60 hand-coloured lithographed plates depicting landscapes, insects/butterflies, and flowers. It also includes a lot of illustrations of Aboriginals, their weapons and their dwellings.
A lot of the work put into this folio was done by Angus himself, including the original water-colour drawings (two or three may been illustrated by Samuel Thomas Gill), the text, and even some of lithography!
In his own words, Angas' goal with illustrations like those seen in 'South Australia Illustrated', was:
'to describe faithfully impressions of savage life and scenes in countries only now emerging from a primitive state of barbarism'
At present, many of Angas' original drawings are homed in the National Gallery of South Australia & the South Australian Museum.
Later Life
While in Turkey, in 1849, Angas was appointed as the naturalist to the Turko-Persian Boundary Commission, however it was short-lived. He caught a fever and became too ill to stay in Turkey, so moved back to England. Not long after, he married Alicia Mary Moran in Ireland. Together, they had four daughters. A year into their marriage, they moved to South Australia where Angas opened his own studio.
Gold Rush
When the Gold Rush near Bathurst first began in 1851, Angas was in Sydney and decided to travel to the goldfields to capture the historic event. He created enough illustrations that he was able to publish two volumes of lithographs containing illustrations of the NSW and the Victorian Gold Rush's. The first was published in Sydney, titled 'Six Views of the Gold Field of Ophir'. The second, 'Views of the Gold Regions of Australia', was published in London.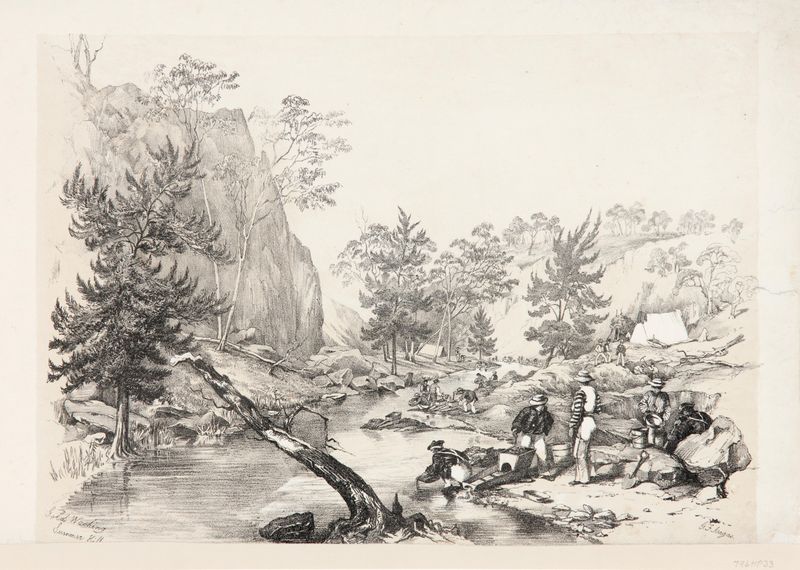 Australian Museum
In 1853, Angas was appointed the Secretary of the Australian Museum in Sydney. He worked there for seven years and oversaw the first public collection of specimens (particularly shells) while they were being categorised. This experience gave him a lot of knowledge about conchology (study of mollusc shells). After leaving his position at the Museum, he was a chairman of the district council of Angaston until 1862.
Resting Place
In 1863, Angas returned home to England with his family. He spent the last 20 years of his life contributing to the Zoological Society and the Linnean Society, contributing to Conchology through his shell studies (descriptive and illustrative). Although he had stopped travelling for the sake of illustrating and publishing books, he still travelled overseas each winter for the sake of his health. He passed away on the 4th of October, 1886.
Notable Accomplishments
Angas was one of five Australians to be represented at the 1855 Paris exposition – they were the first Australians to be a part of an overseas display
The African antelope, Nyala (Tragelaphus angasii), was named in his honour.
Angas' illustrated John McDouall Stuart and John Forrest's accounts of their exploration to central Australia. These illustrations were turned into wood engravings and published in 1864 and 1875.
Publications
1842
A ramble in Malta and Sicily in the autumn of 1841
1846
A Catalogue of paintings by George French Angas, illustrative of the natives and scenery of New Zealand and South Australia: also sketches in Brazil, Cape Verde Islands, New South Wales
1847
The New Zealanders illustrated
South Australia illustrated
Savage life and scenes in Australia and New Zealand: being an artists impressions of countries and peoples at the antipodes, 2 vols
1849
The Kafirs illustrated
Description of the Barossa Range and Its Neighbourhood in South Australia
1851
Six views of the gold field of Ophir, at Summerhill and Lewis Ponds Creeks
Views of the gold regions of Australia
1865
Australia, a popular account of its physical features, inhabitants and productions, with the history of its colonization
1866
Polynesia, a popular description of the physical features, inhabitants, natural history, and productions of the islands of the Pacific, 1866
1874
Wreck of the 'Admella' and other poems, 1874
Up for Auction: South Australia Illustrated
We have 'South Australia Illustrated', one of Angas' best-known works, up for auction on live online, Monday night! We also have a couple of Angas' other works, which you can check out here.
The auction begins at 6pm – you don't want to miss a chance at owning this amazing piece of South Australian History. We
References
https://en.wikipedia.org/wiki/George_French_Angas
https://adb.anu.edu.au/biography/angas-george-french-1708
https://www.nla.gov.au/collections/guide-selected-collections/angas-collection
https://teara.govt.nz/en/biographies/1a7/angas-george-french
https://nzhistory.govt.nz/people/george-french-angas
https://www.nla.gov.au/whats-on/exhibitions/illustrating-antipodes-george-french-angas
https://guides.slsa.sa.gov.au/c.php?g=410270&p=2794886
https://adb.anu.edu.au/biography/angas-george-fife-1707